Last month, FACS released an integration that allows customers of PlanGrid®, an industry-leading field productivity solution in Autodesk Construction Cloud™, to automatically share documents between the two software applications.
FACS provides a simple, intuitive, cloud-based project document and cost management tool based on a construction team's most current documents, forms, workflows and reports. The integration with PlanGrid simplifies document management so large teams with some team members using FACS and others using PlanGrid can now stay better coordinated and ensure their productivity is not compromised by time spent on tedious, time-consuming and error-prone data transfer between applications. Customers can access key project data when they need it and collaborate, regardless of whether they're working in FACS or PlanGrid.

All Sheets created in PlanGrid, including ones with Mark-ups and Annotations, automatically load into the FACS File Cabinet so they can be attached to documents in FACS. Additionally, all documents created in FACS automatically populate within PlanGrid as documents, meaning FACS-created documents are stored in PlanGrid as Sheets, Field Reports, RFIs, etc., respectively.
"We are very excited about this partnership as it allows for increased communication on the job site without any additional effort by the project teams." says Greg Varni, President of FACS.
Field users will find this integration especially powerful as it combines PlanGrid's ability to easily markup plan sheets from the field with FACS' ability to easily create Field Reports and respond to other critical project documents, like RFIs and Material Submittals, without having to send documents between the two systems. As an entry is created in one system, it is automatically loaded in the other.
"Construction is inherently complex," said James Cook, head of integrations at Autodesk Construction Solutions. "Technology's job is to ease some of that complexity and aid collaboration and productivity, even when there are multiple solutions being used across a team. Integrating FACS and PlanGrid streamlines document management so teams can focus on collaboration and productivity, and deliver quality projects."
If you're a current PlanGrid user, and want to learn more about the FACS Platform or this integration, click here to set-up a call with one of our team members.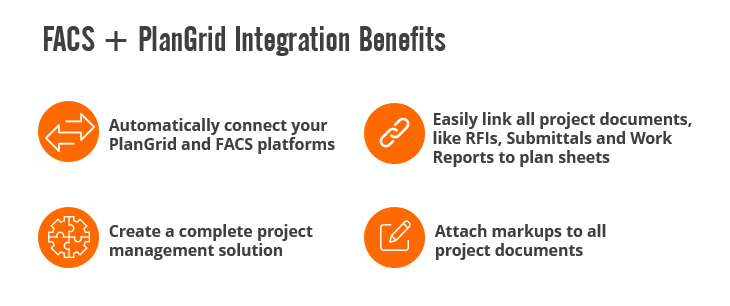 Autodesk, Autodesk Construction Cloud and PlanGrid are registered trademarks or trademarks of Autodesk, Inc., in the USA and/or other countries. All other brand names, product names, or trademarks belong to their respective holders.