AECOM is a global network of experts working with clients, communities, and colleagues to develop and implement innovative solutions to the world's most complex challenges: delivering clean water and energy; building iconic skyscrapers; planning new cities; restoring damaged environments; connecting people and economies with roads, bridges, tunnels and transit systems; designing parks where children play; and helping governments maintain stability and security. They connect expertise across services, markets, and geographies to deliver transformative outcomes. Worldwide, they design, build, finance, operate and manage projects and programs that unlock opportunities, protect our environment and improve people's lives.

AECOM began using FACS in the early stages of software development. They have used the software on multiple contracts, but most notably on the New Jersey Turnpike 6-9 Widening Program.

UNIQUE CHALLENGES | AECOM came to use the software because they needed a program to coordinate their multiple contracts in process. With 31 separate contracts going on simultaneously, there was definitely a need to have a central system come alongside and help better manage the projects.
The New Jersey Turnpike 6-9 widening program included: "complex, multi-level interchange construction, numerous local bridge over-crossing replacements, extensive earthwork and paving operations, and major improvements to existing drainage, utilities, electrical, lighting, fiber, overhead signage, and sound barrier systems".
The company needed a system to handle these vast improvements as well as the day-to-day work site actions to complete the project: inspection recording, material flagging, manpower monitoring and client metric reporting, just to mention a few. They had the difficult challenge of organizing a large team, with a large budget, within their client's desired timeline.
---
HOW FACS SOFTWARE HELPED | AECOM used FACS software to manage multiple contracts, and it provided a comprehensive management tool to assist in saving money while increasing job site efficiency. The software provided new methods of achieving increased efficiency across the field.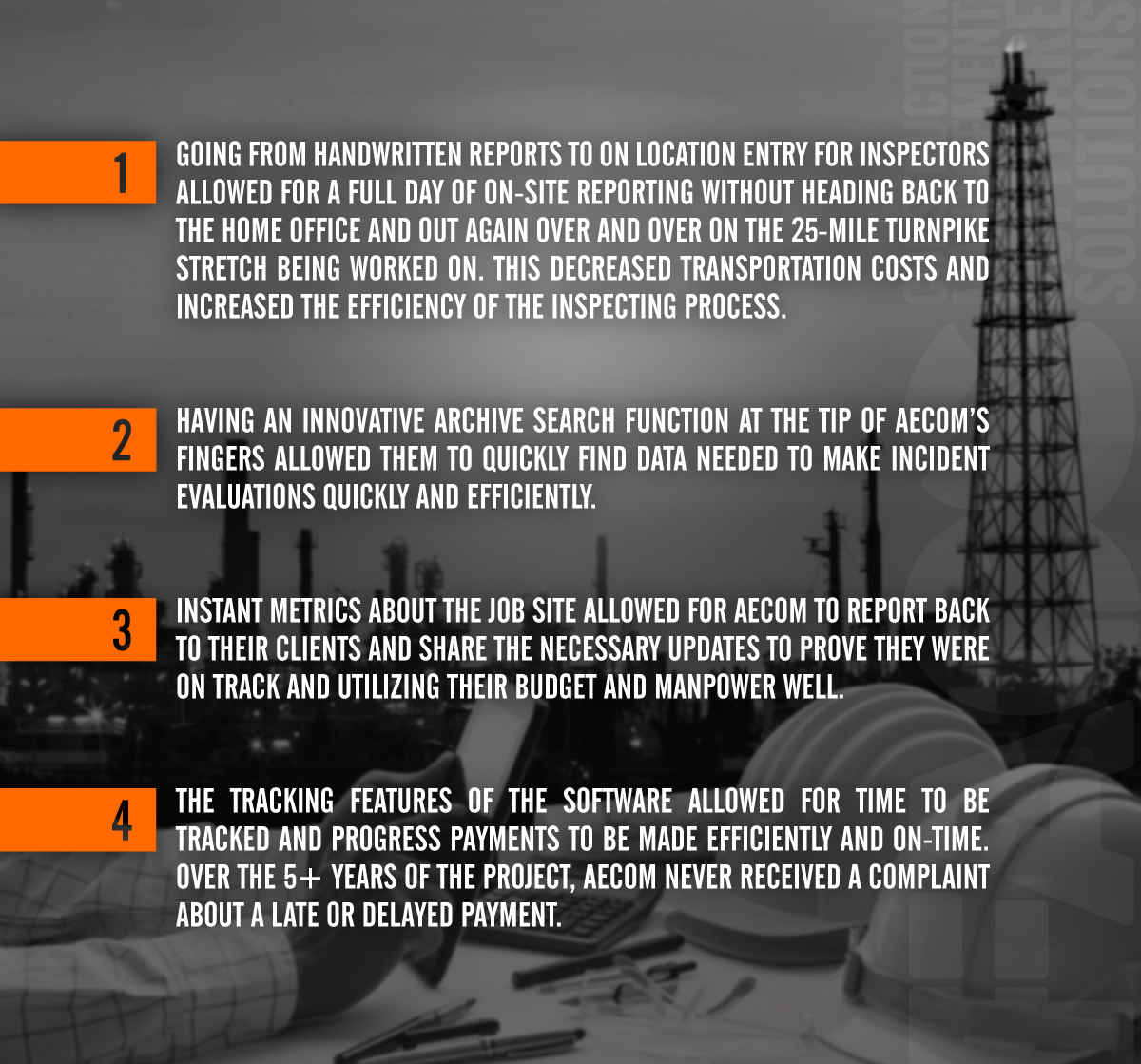 All of these efficiencies allowed for AECOM to better serve their clients by delivering the 6-9 Widening Program on time and under budget. By solving the initial challenge, FACS became the foundation of the project teams collaboration which lead their team to such great success.
Sources: http://www.aecom.com/, Thomas O'Connor P.E AECOM Vice President, www.businesswire.com